Impress your clients, guests, and friends with the ultimate entertainment vehicles, Party Bus rental in new york, courtesy of Falcon Tour Travel Corp. From party buses to stretch limos, it's time to let the good times roll! Book your unforgettable trip now at 800-579-6911!
Want to enjoy a great night out with a difference? Hop aboard one of Falcon Tour Travel Corp's party bus rental nyc and experience New York City in the lap of mobile luxury!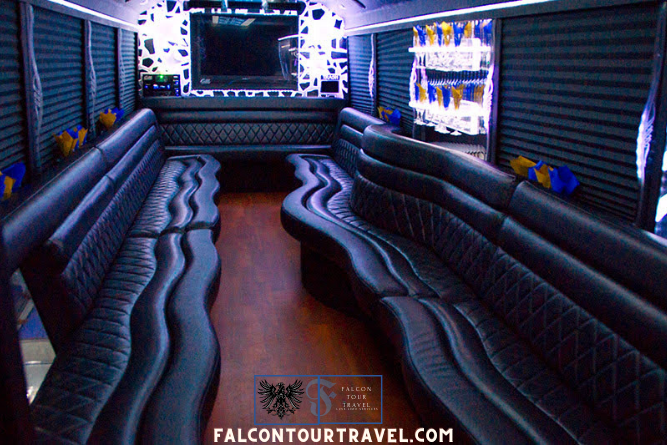 As the American public continues to enjoy the new freedoms of the post-pandemic era, the New York City-based transportation company has just announced an updated range of vehicle-based entertainment services for functions and celebrations.
Falcon Tour Travel Corp's latest now offers you a comprehensive selection of limousines, party bus rental nyc, and high-tech luxury vehicles for parties on the move. The company's fleet is equipped with state-of-the-art technology to help make your special social occasions unique and memorable.
Enjoy the VIP treatment for your next big occasion with Falcon Tour Travel Corp. More details at https://www.falcontourtravel.com/locations/new-york/party-bus-rental-new-york-city
Its latest announcement details a range of services for Birthday, wedding, bachelorette parties, as well as for prom and corporate events. All buses and cars are driven by smartly attired chauffeurs, who are highly trained and experienced at delivering superior customer care to ensure your safety and enjoyment at all times.
Vehicles on offer include a variety of limo party buses that can accommodate 12, 14, 20, 25, 28, 30, 35, 44, or 50 persons With 3 hour minimum rental on weekdays (Mon-Thurs) & 5 hour minimums on weekends (Fri-Sun). The flagship Tiffany model accommodates 50 people, features a sleek white interior, and comes fully stocked with bottled water, soda, cocktail napkins, and champagne glasses. Party Bus Prices in New York can be as low as $40/seat for a 3 hour round trip.
For birthdays, be it a children party, sweet 16, quinceanera or adult birthday party they have a party bus for all of these special occasions.
For weddings, customers can choose from the company's vintage or classic limousines. A wide selection of elegant and sophisticated cars ensures there is something for every taste and occasion. Wedding planning services can also be included and drivers are trained to look after everything from serving drinks to the bride's dress. Wedding Packages are designed with you in mind it has a complimentary Red Carpet Service, Champagne Toast & Tuxedoed Chauffeur.
From party buses to classic cars, all Falcon Tour vehicles are kept in optimum condition to ensure a smooth ride. Limousines and buses are all kitted out with state-of-the-art Hi-Fi systems for an immersive audio experience with Bluetooth/AUX connectivity. Specially designed lighting also makes the Falcon Tour experience classy and unique.
You can also choose from a fleet of executive-level cars for corporate events, small/large bus hire for ferrying delegates to and from venues or airports, and stretch limousines for high-profile guests who expect the VIP treatment.
About Falcon Tour Travel Corp
Led by owner Mohammad Moiz, the company has been providing luxurious travel solutions and entertainment venue services since its inception in 2015. In addition to transportation hire, Falcon Tour Travel Corp can also provide high-end accommodation and comprehensive tour itineraries.
A spokesperson says, "We provide nationwide chauffeured services with the latest and greatest high-tech luxury vehicles. We are adept in planning and executing state-of-the-art travel experiences."
With its latest service update, Falcon Tour Travel Corp continues to set the standard for luxury limousines rental new york and party bus hire in the New York metropolitan area.
Take the party with you this year. For an unforgettable night, choose Falcon Tour Travel Corp. Find out more about your birthday party bus rental here: https://www.falcontourtravel.com/birthday
Want to hit the town in style? You won't find a better way to party than with Falcon Tour Travel Corp's limos and party buses for rental in new york.